Basilica del Volto Santo
Via del Santuario
65024 MANOPPELLO (PE) ITALY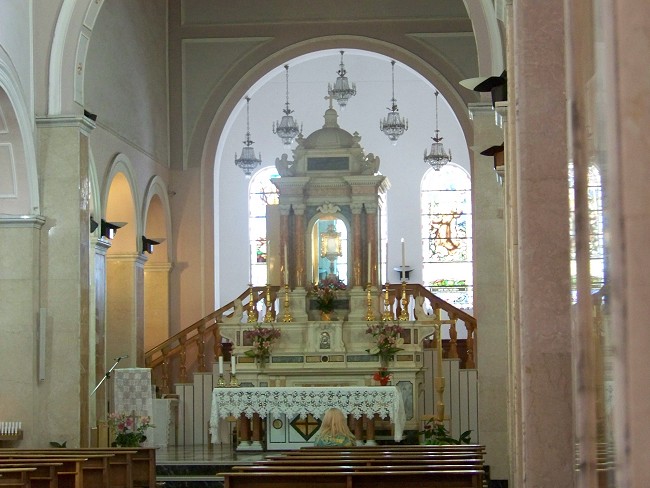 The nave with the reliquary
The basilica of the Holy Face is located in Manoppello, a small town in the Italian region of Abruzzo, which is situated on a hill among the mountain massifs of Gran Sasso and Maiella and the coast of the Adriatic Sea. Il Volto Santo, the sanctuary of the Holy Face is located above the town on the slope of a wooded hill. Capuchins have been the sanctuary's curators for ages. From the square in front of the church one can see the pretty Neo-Romanesque facade which was built with pink and beige stone blocks forming a geometric pattern.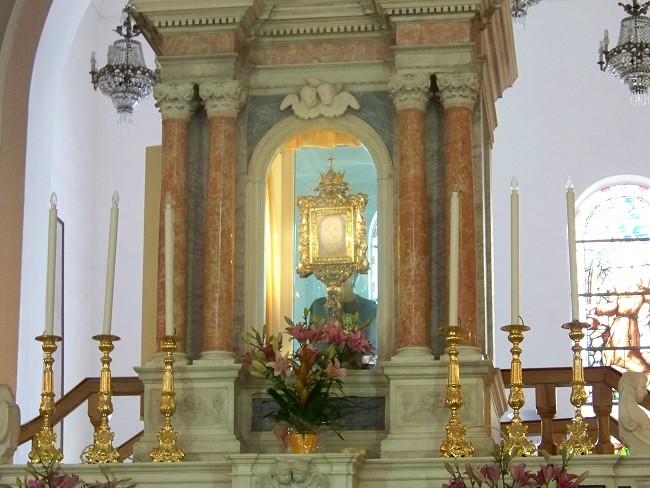 The reliquary in the high altar
The three-aisle interior is plain. The nave with a baroque altar is topped with a rectangular apse with three windows. Above the tabernacle there is a pillared structure in which they placed the silver reliquary resembling a monstrance. However, the Host is not visible in its rectangular glazed opening. Here one can notice a mysterious piece of cloth whose both sides present a man's face. The locals have revered this remarkable veil as the true Face of Christ.

The semi-transparent Face, a stained glass window in the background
The miraculous Face is visible from the one side and from the other side alike, from the front and from the back. It also turned out that the veil looked different in various intensities of light, e.g. in very bright light the Face of Jesus is completely invisible, completely transparent. When Martin Luther saw the Miraculous Veil, called the Veil of Veronica then, in St. Peter's Basilica for the first time, he was probably looking at it against the light and that is why he could not see any image. He expressed his bitterness in a strong statement: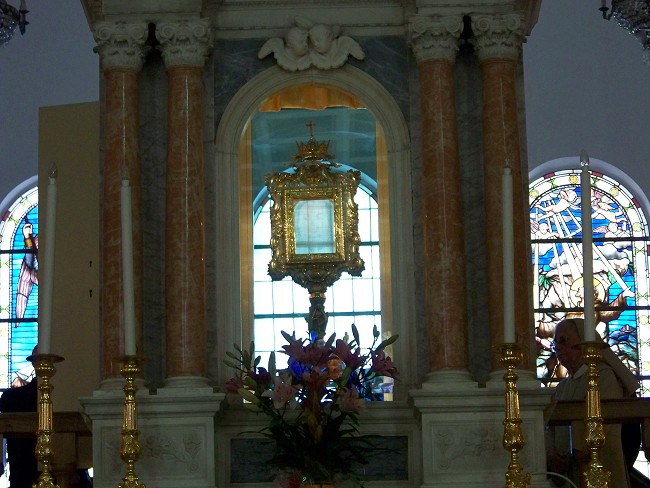 "They claim that the true image of Our Lord's Face is imprinted on the Veil of Veronica. However, it is just a piece of pale linen which they keep rising. Poor simpletons see nothing more than a piece of pale linen on a board"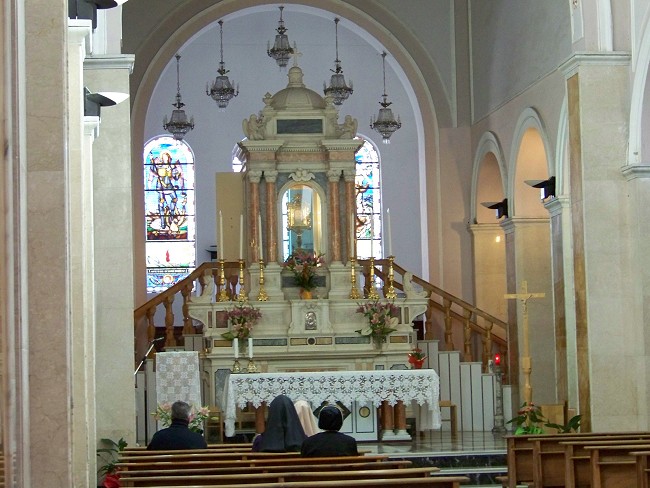 The adoration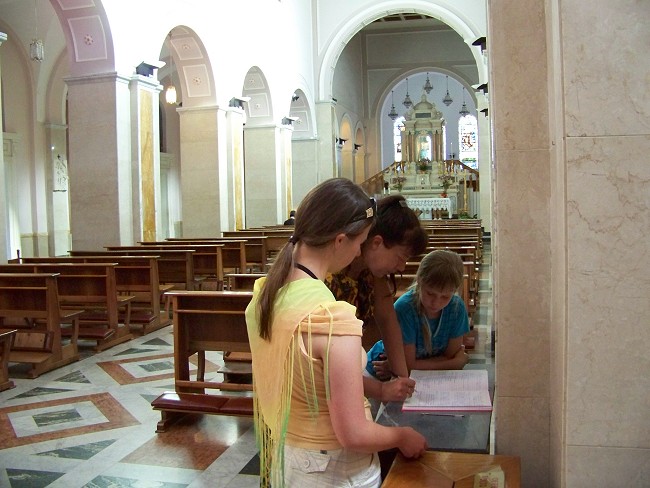 The guest book
To the left of the altar there is an entrance to the room with exhibitions, such as photos, charts and multimedia presentations, displaying the history of the relic and its connections with the Turin Shroud.

The room with exhibitions
One can also admire a huge collection of votive objects which were left by pilgrims as acknowledgement of graces they received. A small shop with devotional articles sells souvenirs among which there are numerous publications in Polish [and other languages].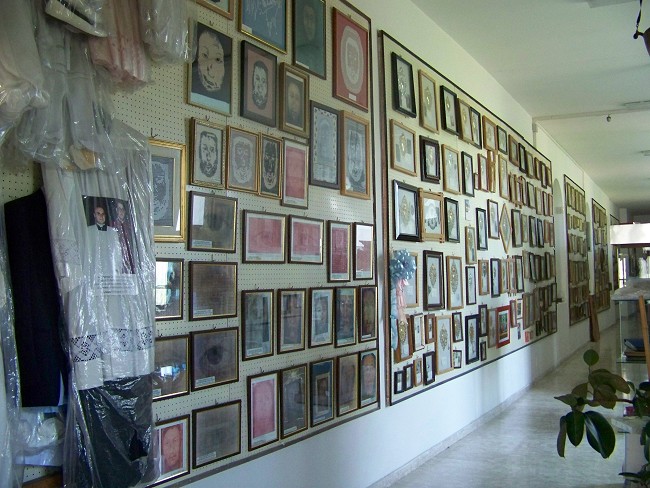 A collection of votive objects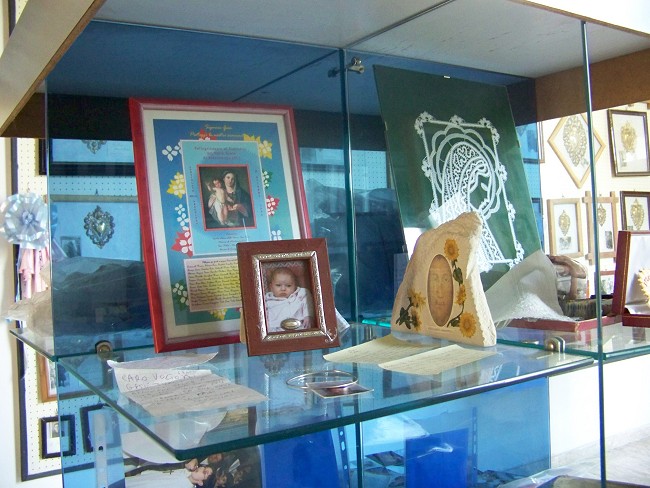 Votive offerings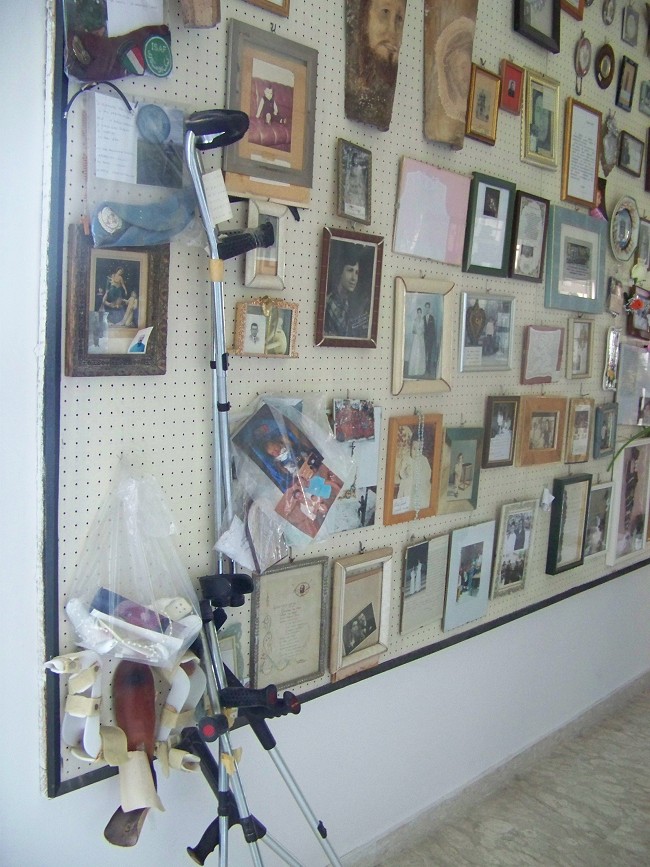 Votive offerings

The multimedia presentation

The exhibition at the convent, with Antonio Teseo as the guide